DELTA membranes protects value, saves energy and creates comfort
No matter what you are constructing: pitch roof, flat roof, metal,  green roof or facades - DELTA membranes provides solution for any kind of the building shape.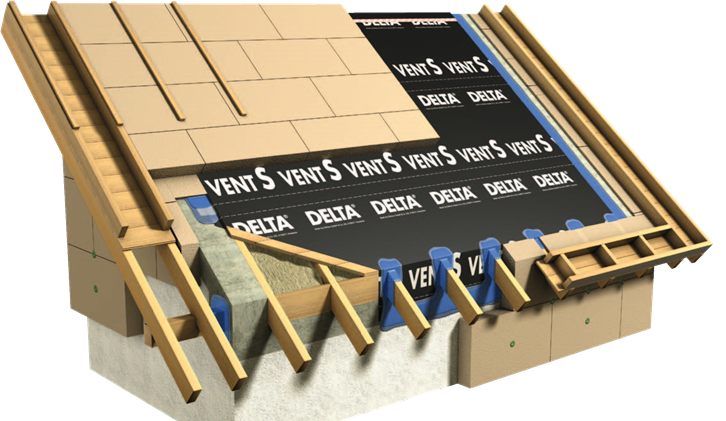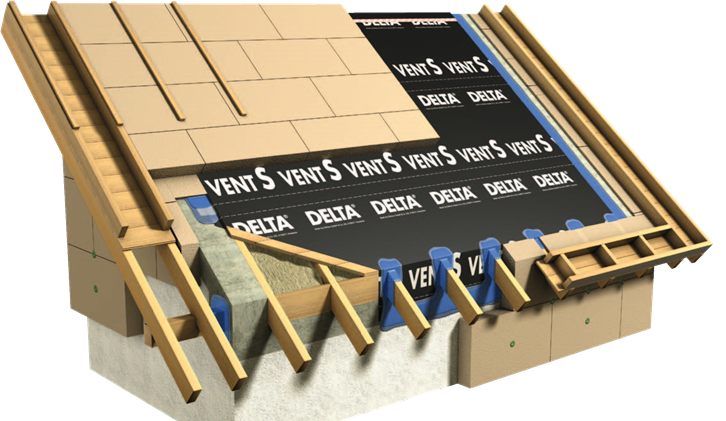 PITCHED ROOF UNDERLAYS
- To be of good quality, a pitched roof needs to fulfil many more functions today compared to a few years ago. Not only should it offer lasting protection from weather and environmental influences, it should also meet the most exacting requirements as regards aesthetics. The objective is, therefore, to perfectly harmonise the visual and functional aspects of a pitched roof. Besides, energy efficiency is becoming an increasingly important issue for builders and owners, an issue that must be addressed when building or refurbishing a roof.
Roofing Underlays
DELTA FACADES
Breathable DELTA® facing sheets offer tailored solutions for any façade construction. For many façade designs featuring open joints or glass facings, DELTA® facing sheets afford maximum safety, besides being UV-resistant. DELTA® sheets that have PLUS added to their name feature integrated adhesive zones along the overlaps, which simplifies building wind-proof constructions. In the following, we present an overview of all our DELTA® facing sheets.
Façade membrane - a reliable protection of thermal insulationAt a time when ecological and beautiful building is in the foreground, planners and builders are increasingly opting for wood construction. In addition, in order to increase the attractiveness of the façade or to make the facade cladding appear more structured and less flat, the profiles are often laid at a distance with open joints. However, this means for the underlying insulation layer a high load by wind and especially by moisture. In order to ensure the long-term effectiveness of the thermal insulation, the insulation layer and the wooden structure must be protected by a wind and impact-resistant, vapor-permeable facade membrane.
Contact us for facade solutions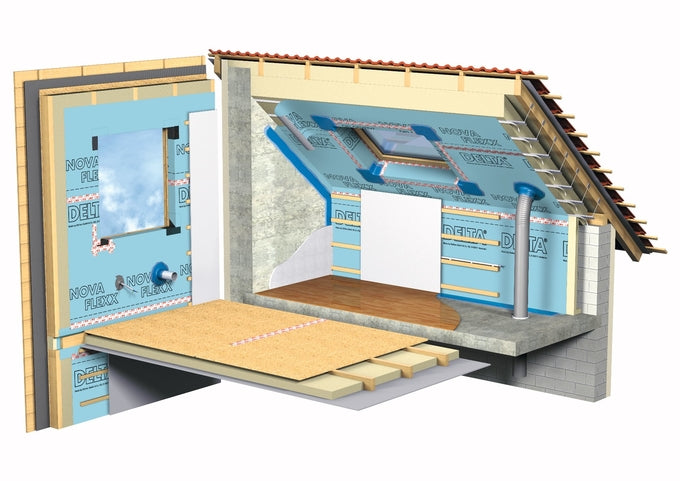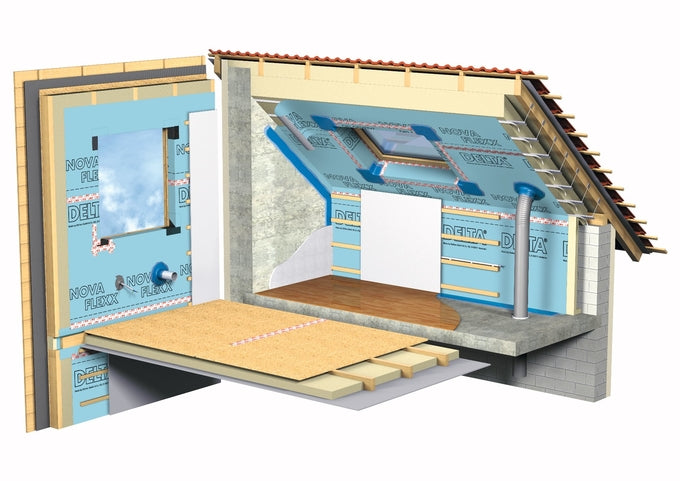 AIRTIGHTNESS AND VAPOUR CONTROL
Vapor barriers prevents the penetration of moisture into the thermal insulation from inside of the house. 
Without the vapor barrier membrane the moisture contained in the warm air could diffuse out of the residential interiors into the construction and  thermal insulation.
The diffusion of water vapor in the air can result in the formation of condensation, which could significantly affect the effect of the insulation. In addition, the condensation can lead to massive damage to the timber construction of the roof truss. 
This is where the vapor barrier membrane comes into play: as an efficient protector, it ensures that the humidity in the living areas does not penetrate into the roof structure and does not damage it..
AIRTIGHTNESS
Underlay membranes with the latest generation of fleeces. The fleeces for our DELTA® underlayment are made with the BiCo core-sheath fiber technology. The nonwovens ensure the mechanical stability of roofing membranes and tear resistance…
The DELTA® membrane technology ensures that DELTA® membranes are water-repellent and breathable at the same time. It protects the roof like a skin




FREE SHIPPING
Get free shipping on every order over 299 €
Contact us today
info@mybuildonline.com +353 (059) 864 7012
Top Range
Best quality on the market